Services Offered
Razzberry Design & Photography offers web, marketing, and photography solutions for small businesses & professionals in the GTA and surrounding areas. I can help you develop your brand and market your business to your target audience.
Website Design & Development
Ongoing Website Maintenance
Business Cards
Letterhead
Marketing & Information Postcards
Catalogue Set-Up
Event Invitations
Product Photography
Razzberry Design & Photography also offer the following photography services to individuals:
Engagement, Maternity, Newborn & Family Sessions
Portrait Photography
Equestrian Photography
Pet Photography
About
Hi! I'm Alie, the face behind Razzberry Design & Photography.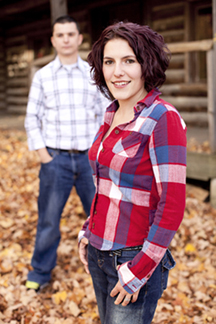 I started out making websites and taking product photography shots for my mom's small business back when I was in high school many years ago. I loved tinkering with web code and being able to create and modify a website to look a certain way. This also sparked a real love for photography as I was lucky enough that my little point and shoot camera had some manual functions that I could play with and develop my photography skills. I was soon looking for courses in university to develop my photography skills and saving up for my first DSLR.

My little business started to grow through word of mouth. I was working with several small businesses that were looking to get themselves online but were overwhelmed by big website firms. They preferred to work one on one with someone who could provide comprehensive, individualized service. Over 10 years later, I still love to work with small business owners developing their brand with easy to understand terminology and offering ongoing maintence.

Aside from my love of design and photography, I am a huge animal lover! I am a Registered Veterinary Technician (which is essentially a veterinary nurse) and my husband and I share our home with three amazing dogs. Quinn is our rambunctious, trouble-making Beagle. Rosie is our beautiful, goofy Basset Hound. And Lexi is our wise and spunky little Wesite who rules the house and keeps the hound dogs in line!

I'd love to chat about ways to develop your small business marketing strategy or about photo session ideas. Please contact me for more information on any of Razzberry Design & Photography's services.